June 12, 2012
J'adore vos cheveux (I love your hair)
Yea I get it. No one wants to be defined by a feature of their personal appearance. So I can understand the politics behind the hair deal. People will love you or hate you. They will tell you they know what is best for you even when they don't know a thing about you. I have a mother who thinks that my hair doesn't look "professional" when it is natural. When the truth is. There are days I love my hair and days I don't. Like every women, there are days we wish our hair was just___ (fill in the blank).
I happen to J'adore Solange. This often forgotten other sister in the Knowles family is my dark hero. I love her complex view on life. I love her complex attitude and poignant ability as a songwriter. A storyteller that speaks to my heart. Recently, I have just been blown away by her flawless beauty. She started modeling and dj-ing and putting herself in the spotlight a little more. Even though I have been a fan since Sandcastle.
She has been hitting my best dressed list and grabbing a few recent pins to my pinterest boards. I traditionally don't pin celebrities, but couldn't deny these looks.

Here, above look in this yellow free flow glam look made her my best-dressed choice of all the wondrous looks at the Met Gala. Her look was an understated elegance in a bold color. I loved it.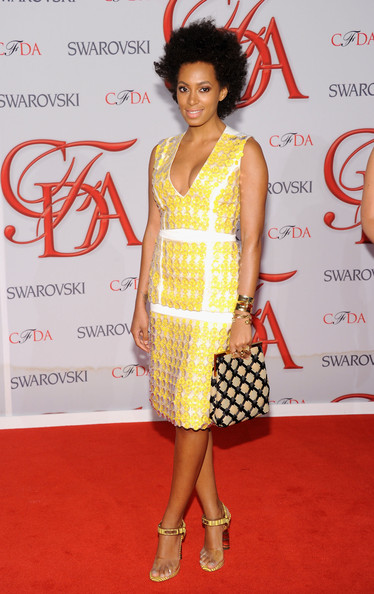 This Marni yellow dress also wowed at the CDFA's recently. I happen to like I said, understand the politics behind her hair rant last week on twitter. I feel like no matter how much we try to get past the hair, beauty and color politics issues, some people of color are stuck in we will never let go of what divides us instead of unites us. I traditionally don't touch on these kinds of subjects here, but felt like I connected with her point. Your hair shouldn't define you. When Brittany Spears cut all her hair off, people saw it as a symbol that she had officially cracked. What all women need to learn is that we must start to re-write the definition of beauty each day for ourselves and on our own terms. NO outside force should project your standard of beauty. As a mother, of a young girl. I need her to get this point early so that we can go about the business of just being an phenomenal person. No matter our hair texture, color, eye color, skin color.
My motto has been for years: If you like it, then I love it. We need to step off where we think people "should" do. I think she looks eclectic, and if she decided to go back to wearing a straight weave tomorrow I could respect that too.
View the rest of the amazing looks from this spread at Necole Bichie.
XO,
Terez
(The Girl with "good" Hair)
To learn more about the color complex.
Editors
Categories
Archives
Subscribe
dbabetta social
Affiliations

Find us on Google+
The Tags
Beach Beauty Beauty Products Beauty Regime Bloggers Business Celebrity Style Chicago Color Blocking Designers Events Fall Collections Fall Fashion Fall Trends Fashion Fashion Bloggers Fashion Brands Fashion Designers Fashion Videos Hair High Fashion HM Holiday Style Holiday Wishlist Lipstick Mac Cosmetics Macy's Makeup Marc Jacobs Menswear Online Sales Personal Style Photography Social Media Street Fashion Style Styling Summer Trends Twitter Video Vogue Vogue.com Vogue Magazine Youtube